Since the start of my campaign, I've had the pleasure of meeting many community members and discussing their concerns and hopes for Redmond. The often-mentioned topics included growth, traffic, access to downtown, downtown parking, affordability, and funding. Through my commitment to improving livability, preserving our environment, and connecting our community, I will work to address each of these issues.
As you read through this page, you will notice these issues are often interconnected and require strategic planning involving a variety of local and regional stakeholders. It's also important to keep in mind we're starting from a very strong position, so the best path forward is to build on Redmond's strengths, including:
Regional leadership
Diverse community
Consistently praised as a great place to live and work
AAA bond rating for 8+ years
Home of global technology businesses and exceptional small businesses
If you have concerns not mentioned below, please send them to me. Meanwhile, here's more information about our community's top issues and my vision for addressing them.
---
Growth
Redmond is growing a lot in a very short time.
Situation: Redmond is experiencing a period of intense growth. In fact, by 2040 Redmond is projected to have approximately 18,000 more people and 34,000 more jobs than in 2015. However, we're not alone. The entire Puget Sound region has become a very desirable place to live and work. In fact, Redmond is legally required by the state Growth Management Act of 1990 to participate in regional growth. If we don't meet specified targets, our city will lose federal, state, and county funding, impacting many programs, particularly transportation.
Therefore, in 1992 Redmond set an urban growth boundary. Redmond's most recent Comprehensive Plan was adopted in 2011 to plan for density in the urban areas of Downtown and Overlake, along with the Marymoor Village local center. When light rail was approved in 2008 and 2016 (coming to Redmond in 2023-24), we decided as a city to act on this plan and concentrate growth and other infrastructure in urban areas. This proactive plan for growth and infrastructure enabled major regional transportation projects to include Redmond's well-defined urban areas in their plans. Because of these investments, transportation projects, including light rail, will come to Redmond sooner than most other suburban areas.
Redmond's growth needed to begin ahead of the completion of the light rail system. In 2008, Redmond began preparations by improving and expanding our city infrastructure. One example of steps taken to support higher-density areas was the modifications to our stormwater system, funded by the construction budgets of high-density buildings. By making investments like these during recessionary times, Redmond was able find businesses in need of work, negotiate good contracts, increase the city's stormwater, water, and sewer capacity, and improve the street grid in our urban centers.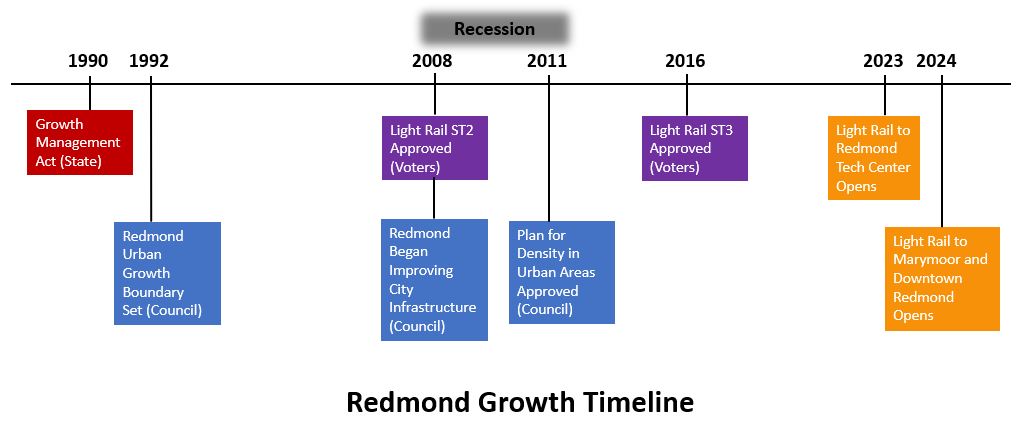 Path Forward: Recently I have been working with King County, Sound Cities Association, and Puget Sound Regional Council to understand the next plan for projected growth in Vision 2050 and how it will affect Redmond. Additionally, I will:
Work regionally so the benefits and burdens of an increased population are shared.
Encourage the building of diverse housing options in the city, so more people can find a housing fit in Redmond.
Improve transit options connecting neighborhoods with the Downtown, Overlake, and Marymoor Village areas.
Find opportunities for more innovative mobility options to better serve people living and working in Redmond.
Traffic
Seems like traffic is getting worse.
Situation: When more people live and work in Redmond, there is an increased demand on our transportation system. Seasonal shifts, such as construction during the summer, bad weather, and the start of a new school year, complicate matters. When a region like ours experiences rapid growth, much of the demand on roads and the transit system comes from outside of the city. Because this is beyond our control, we must collaborate on regional solutions which optimize the limited funds available to resolve this problem.
Path Forward: As a member of the Eastside Transportation Partnership and Eastside Rail Corridor (Eastrail), I have been working with other elected officials to find regional solutions with our partners. Additionally, I will:
Work with transportation providers to advocate for favorable options, routes, and implement new technologies and services to benefit the Redmond community.
Work with the Lake Washington School District to evaluate how we can better serve our community, including older students, with public transportation.
Pay particular attention to transportation options between neighborhoods and downtown/transit centers.
Work to complete trail networks to allow for better non-motorized connectivity.
Access to Downtown
Getting to downtown is challenging.
Situation: With growth concentrated in Downtown, Overlake, and Marymoor Village, these areas are, and will continue to be, well-serviced by mass transit. Getting from our neighborhoods to these areas without a car, to continue a commute or access services, must be improved.
Path Forward: I have been working with King County Metro and Sound Transit to expand public transportation beyond our high-density areas to Redmond's neighborhoods. Additionally, I will:
Study neighborhood transportation needs.
Improve connector trails for non-motorized vehicles, including completing the Redmond Central Connector to connect to Kirkland.
Continue work with large businesses to ensure their employees can easily connect to urban transportation hubs.
Continue work with regional transport agencies such as King County Metro and Sound Transit.
Revisit our city transportation plan to ensure we will efficiently meet neighborhood transportation demand.
Downtown Parking
Seems like parking downtown is hard to find.
Situation: When building is concentrated and more people live and work in Redmond, there is increased parking demand. Builders are required by code to provide a designated level of parking capacity. Builders must balance the cost of meeting these parking requirements with the viability of their overall project. After construction begins, there is naturally a period when parking availability is disrupted prior to the completion of the project.
Long-term, the shift from a suburban city center to a more urban design will change transportation patterns to a more "car-free" model, alleviating some of these growing pains. In the interim, the city must work to address the changes in parking availability and the community's parking needs.
Path Forward: I have strong relationships with local businesses and landowners, so we can work collaboratively on parking solutions. Together, we can:
Improve the use of underutilized parking.
Encourage better signage for parking options (under multi-story buildings for retail).
Engage technology as a tool to help residents and visitors find parking.
Allow building owners and businesses to invest in centralized city parking.
Work with local businesses on other parking strategies to improve customer access and their long-term businesses success.
Affordability
Living in Redmond is so expensive, particularly housing.
Situation: Demand to live in Redmond is high, which naturally drives up housing prices. Redmond is a beautiful community with easy access to jobs and services throughout the Eastside and Seattle. This demand is further increased by the availability of more jobs right here in our community. During the workday, our population soars from 64,000 to 90,000. It is natural for people to want to live close to work because it improves their quality of life. In turn, the availability of that talent brings in new businesses eager to hire the workforce they need to be successful. This is particularly true in the high-paying technology industry.
When housing prices are high, it's difficult for lower-wage earners – often those who provide services for the community – to afford to live in Redmond. These people are forced to live outside the city and commute to work, adding to transportation demand. In addition, low unemployment, along with a wide variety of job choices in the area, means businesses need to pay more to attract and retain employees, and this results in higher prices. When overall inflation is added to the mix, the price increases become significant.
Path Forward: I have been working with Sound Cities Association, King County, the state legislature, Challenge Seattle, local developers, unions, and many large local businesses to improve housing options so we can address this issue. Additionally, I will:
Encourage more diverse housing options, including townhouses and duplexes.
Improve the process to add Accessory Dwelling Units (ADU), like duplexes, triplexes, and mother-in-law units, and streamline the permitting process.
Investigate building codes to find options to increase affordability.
Create opportunities for small business, including incubator spaces and more affordable office space options.
Funding
Property taxes just keep going up. Where does all that money go?
Situation: An increase in the value of your home results in an increase in the property tax you pay. So, it's natural to wonder where that money is going. When you look at your annual property tax bill, it's helpful to understand how that money is allocated between the state, schools, the city of Redmond, and other entities funded by property tax revenue. When looking at the Redmond portion, you'll want to know how that money is used and how our rates compare with tax rates in other cities. Redmond has a short Property Tax Guide that answers these questions. Here are some highlights:
Only 13% of your property tax goes to the city of Redmond.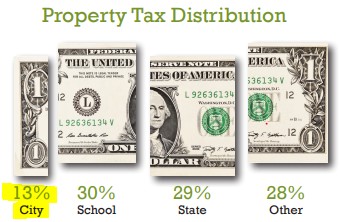 The median home in Redmond pays $79.58 per month for police, fire, transportation, parks, and more.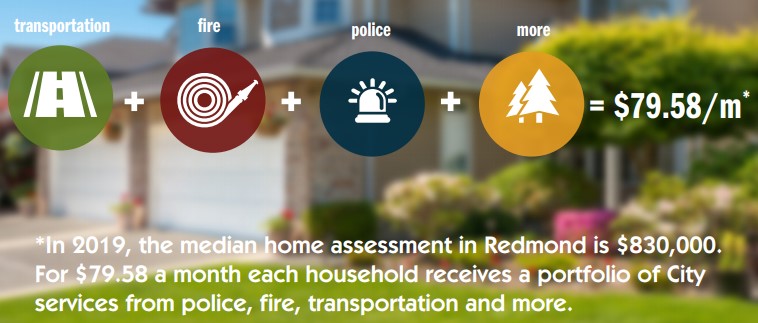 Redmond's property tax rate is in the mid–to low–range when compared to nearby cities.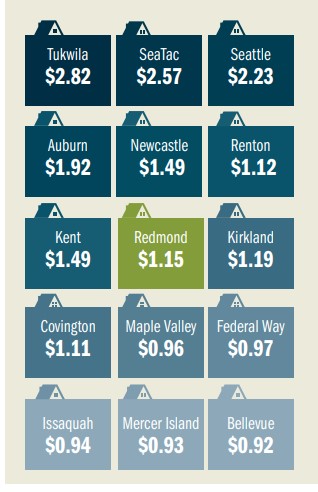 Property taxes must cover all city services from fixing potholes to parks, police, fire, and other emergency services. By state law, cities can only increase their regular property tax levy by one percent each year, which does not keep pace with inflation.
Property taxes comprise 21% of Redmond's general fund budget. The city follows a "budgeting by community priorities" policy.
Path Forward: While on city council, I have listened to the community and I will continue to listen and support budgeting by community priorities. Additionally, I will:
Ensure the city's priorities are in line with community goals and needs by improving our community involvement plan.
Continue ongoing outreach for public comment on city priorities.
Improve transparency as we publicly report city accomplishments via newsletter, website, and video.